It's an ELF Takeover!
HAVE YOU HEARD OF THE ELFIE SQUAD?

We know that 2020 has been a hard year for everyone so we've had a chat to Santa, and he has generously sent a few Elves to help out. They call themselves the ELFie Squad and they've been working extra hard to bring the Christmas fun to Redcliffe this year.
ELFie WITH SANTA

This Christmas, we're making YOU the star!
Spread the joy virtually with a custom mini movie starring you and up to two buddies.
Just snap a funny face into our iPad and watch as you get up to mischief at the North Pole with Santa!
When: 
Monday to Sunday 9am – 4pm
Our friendly Elf will be here weekly, Tuesday to Saturday: 10am – 2pm
Location: Outside Kmart
BLING-IT-UP WITH THE ELFie SQUAD
Collect a FREE personalised bauble when you spend $50 or more at any specialty store*.  Or purchase your own personalised bauble for $10 each.
Please allow 30 minutes for your bauble to be personalised to perfection.

Location: Outside Kmart
When:
Thursday 10 Dec:                           10am – 7pm
Friday 11 & Saturday 12 Dec:         10am – 4pm
Thursday 17 Dec:                            10am – 7pm
Friday 18 & Saturday 19 Dec:         10am – 4pm
Pre Order:
To avoid the queues, pre-order your personalised bauble today! Order online here and use promo code: PENFAIR. place your order before 9pm on Tuesday 8 Dec to pick up between 10 -12 Dec or place your order before 9pm on Tuesday 15 Dec to pick up between 17-19 Dec.
DO THE ELFie SQUAD WRAP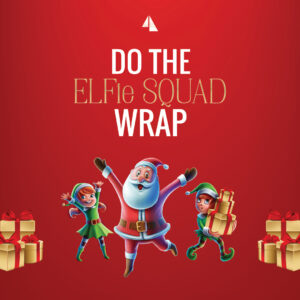 Have your gifts beautifully wrapped this Christmas with all proceeds donated to The Salvation Army and Recliffe Central Lioness Club.
Daily Opening Hours:
Monday 30 Nov to Wednesday 16 Dec: 10am – 4pm
Late Night Thursday 17 Dec: 10am – 4pm + 5pm – 7pm
Friday 18 to Thursday 24 Dec: 10am – 4pm
Cost: starting at $2 for small gifts
Location: outside Kmart
ELFie SQUAD LATE NIGHT MODE:
ACTIVATED
The ELFie Squad are keeping stores open longer for all your last-minute Christmas needs!
TRADING HOURS COMING SOON!
Conditions for Bling-It-Up Bauble Personalisation free gift:
1. $50 spend can be from bundled receipts (for example you shop at Sussan, Hot Bargains and Jay Jays and collectively spend $53)
2. $50 spend must be on the date you are collecting your free bauble (for example shop on Thurs 17 Dec and show your receipts on that date)
3.40 free baubles per day. Once all 40 free baubles have been redeemed, no more baubles can be given out that day.
4. one bauble per person. (for example If you spend $150 and you have 2 people, you can collect 2 baubles. If you spend $100 and you have 1 person, you can collect 1 bauble).