NAIDOC Week 2022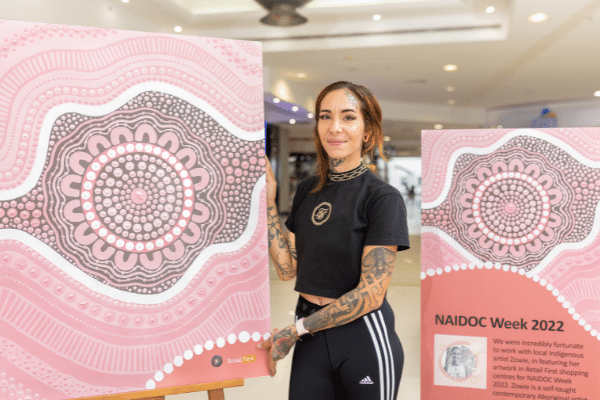 To commemorate NAIDOC Week in 2022, Peninsula Fair in association with Retail First are honoured to have collaborated with a local Indigenous, female artist to create a beautiful piece of artwork that encapsulates this year's theme 'Get Up! Stand Up! Show Up!", women's health and social issues.
This collaboration is with artist, Zowie, from the Kombumerri tribe and Butchulla tribe.
She is a self-taught contemporary Aboriginal artist.
Her art combines both traditional and modern mediums effortlessly, to create pieces that a truly alluring to the eye.
The young, artist and mother, has creatively expressed herself through art her entire life.
However, after raising her own family she has been brought closer to her ancestors, origins and connection to the land.
Her journey through motherhood ignited a renewed passion for the representation of her people's oral history through painting.
Her work represents both her Mother's clan and Father's clan. Her artistic style combines that of the past and present to connect viewers with open dialogue in relation to the history and future of Australia's First Nation's People.
NAIDOC Week 2022 encourages all Australians to champion institutional, structural, collaborative, and cooperative change while celebrating those who have already driven and led change in Aboriginal and Torres Strait Islander communities over generations.
The relationship between Aboriginal and Torres Strait Islander peoples and non‑Indigenous Australians needs to be based on justice, equity, and the proper recognition of Aboriginal and Torres Strait Islander peoples' rights.
Get Up! Stand Up! Show Up! Amplify your voices and narrow the gap between aspiration and reality, good intent and outcome.
Peninsula Fair would like to acknowledge the Traditional Custodians of this land on which we gather upon. 
We pay our respects to Aboriginal and Torres Strait Islander Elders for guiding us in the past, walking with us in the present, and for leading us into the future.
We recognise the leaders of change in our communities over generations and support narrowing the gap.