Enjoy the Movies!
BECOME A HOYTS REWARDS VIP MEMBER!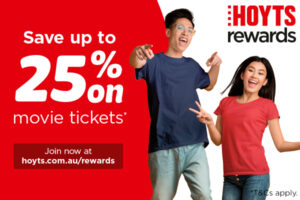 Get rewarded every time you go to the movies at HOYTS!
Become a HOYTS Rewards VIP member today and save 25% on movie tickets!
Plus, you get access to a tonne of other benefits like, 10% off food & drinks, access to movie of the week tickets and free popcorn refills!
So, what are you waiting for? Join HOYTS Rewards today in-cinema or online at hoyts.com.au for just $15 a year!
T&C's apply. 
---
YOUR HEALTH AND SAFETY AT HOYTS
The health and safety of our guests and staff is our biggest priority. We ask for your support in keeping our cinemas clean and safe.

Use contactless payments where possible
Always practice good hygiene and wash hands frequently
Place your rubbish in the bin at the conclusion of sessions
Cover coughs/sneezes, dispose of tissues and make use of the available hand sanitiser
Refrain from attending the cinema if feeling unwell to ensure a safe and comfortable experience for everyone
---
NEW RELEASES! 🎬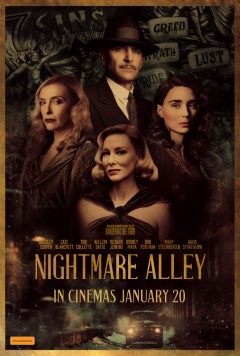 Nightmare Alley
When charismatic but down-on-his-luck Stanton Carlisle (Bradley Cooper) endears himself to clairvoyant Zeena (Toni Collette) and her has-been mentalist husband Pete (David Strathairn) at a traveling carnival, he crafts a golden ticket to success, using this newly acquired knowledge to grift the wealthy elite of 1940s New York society. With the virtuous Molly (Rooney Mara) loyally by his side, Stanton plots to con a dangerous tycoon (Richard Jenkins) with the aid of a mysterious psychiatrist (Cate Blanchett) who might be his most formidable opponent yet. A film by Guillermo del Toro.
Secure Your Seats Here: https://bit.ly/3rw71LR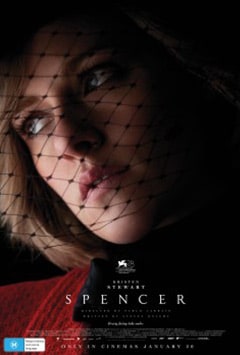 Spencer
December, 1991: The Prince and Princess of Wales' marriage has long since grown cold. Though rumours of affairs and a divorce abound, peace is ordained for the Christmas festivities at Sandringham Estate. There's eating and drinking, shooting and hunting. Diana knows the game. This year, things will be a whole lot different.
Secure Your Seats Here: https://bit.ly/3KlDwVC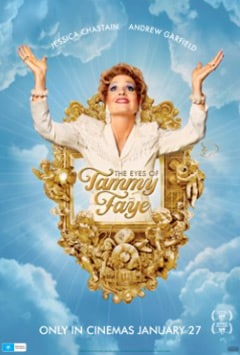 The Eyes of Tammy Faye
The Eyes of Tammy Faye is an intimate look at the extraordinary rise, fall and redemption of televangelist Tammy Faye Bakker. In the 1970s and 80s, Tammy Faye and her husband, Jim Bakker, rose from humble beginnings to create the world's largest religious broadcasting network and theme park, and were revered for their message of love, acceptance and prosperity. Tammy Faye was legendary for her indelible eyelashes, her idiosyncratic singing, and her eagerness to embrace people from all walks of life. However, it wasn't long before financial improprieties, scheming rivals, and scandal toppled their carefully constructed empire. Don't miss Advance Screenings on Wednesday, January 26!
Secure Your Seats Here: https://bit.ly/3tCQ1WY
---
DON'T MISS THESE TITLES! 📽️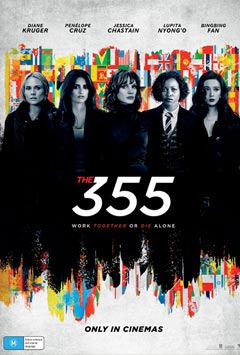 The 355
A dream team of formidable female stars comes together in a hard-driving original approach to the globe-trotting espionage genre in The 355. When a top-secret weapon falls into mercenary hands, wild card CIA agent Mason "Mace" Brown will need to join forces with rival badass German agent Marie, former MI6 ally and cutting-edge computer specialist Khadijah, and skilled Colombian psychologist Graciela on a lethal, breakneck mission to retrieve it, while also staying one step ahead of a mysterious woman, Lin Mi Sheng, who is tracking their every move. As the action rockets around the globe from the cafes of Paris to the markets of Morocco to the wealth and glamour of Shanghai, the quartet of women will forge a tenuous loyalty that could protect the world—or get them killed.
Secure Your Seats Here: https://bit.ly/331noYx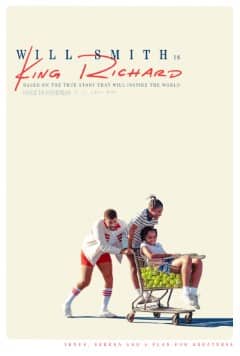 King Richard
Based on the true story that will inspire the world, Warner Bros. Pictures' "King Richard" follows the journey of Richard Williams, an undeterred father instrumental in raising two of the most extraordinarily gifted athletes of all time, who will end up changing the sport of tennis forever. Two-time Oscar nominee Will Smith stars as Richard, under the direction of Reinaldo Marcus Green. Driven by a clear vision of their future and using unconventional methods, Richard has a plan that will take Venus and Serena Williams from the streets of Compton, California to the global stage as legendary icons. The profoundly moving film shows the power of family, perseverance, and unwavering belief as a means to achieve the impossible and impact the world.
Secure Your Seats Here: https://bit.ly/3r4HcSU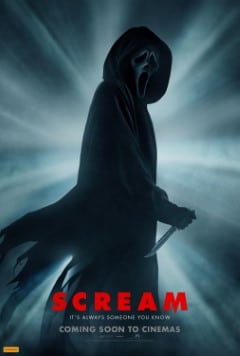 Scream
Twenty-five years after a streak of brutal murders shocked the quiet town of Woodsboro, a new killer has donned the Ghostface mask and begins targeting a group of teenagers to resurrect secrets from the town's deadly past. Neve Campbell ("Sidney Prescott"), Courteney Cox ("Gale Weathers") and David Arquette ("Dewey Riley") return to their iconic roles in Scream alongside Melissa Barrera, Kyle Gallner, Mason Gooding, Mikey Madison, Dylan Minnette, Jenna Ortega, Jack Quaid, Marley Shelton, Jasmin Savoy Brown, and Sonia Ammar.
Secure Your Seats Here: https://bit.ly/3G6YWmR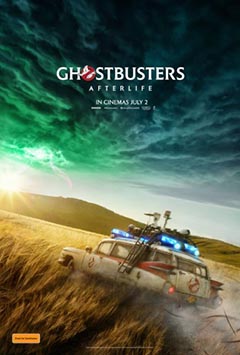 Ghostbusters: Afterlife
From director Jason Reitman and producer Ivan Reitman, comes the next chapter in the original Ghostbusters universe… When a single mom and her two kids arrive in a small town, they begin to discover their connection to the original Ghostbusters and the secret legacy their grandfather left behind.
Secure Your Seats Here: https://bit.ly/3sVYq7w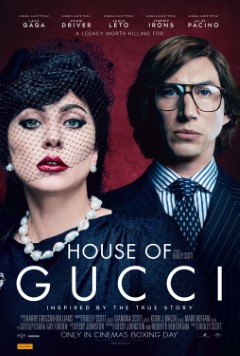 House of Gucci
House of Gucci is inspired by the family empire behind the Italian fashion house of Gucci. When Patrizia Reggiani (Lady Gaga), an outsider from humble beginnings, marries into the Gucci family, her unbridled ambition begins to unravel the family legacy and triggers a reckless spiral of betrayal, decadence, revenge, and ultimately…murder.
Secure Your Seats Here: https://bit.ly/3yPckJk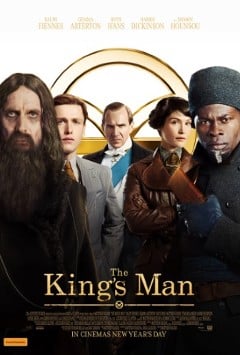 The King's Man
As a collection of history's worst tyrants and criminal masterminds gather to plot a war to wipe out millions, one man must race against time to stop them. Discover the origins of the very first independent intelligence agency in The King's Man. The King's Man is directed by Matthew Vaughn and stars Ralph Fiennes, Gemma Arterton, Rhys Ifans, Matthew Goode, Tom Hollander, Harris Dickinson, Daniel Brühl, with Djimon Hounsou, and Charles Dance.
Secure Your Seats Here: https://bit.ly/3G43r1u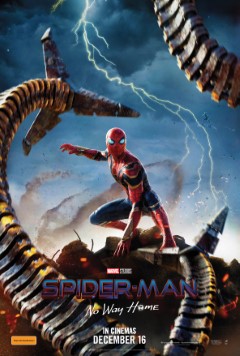 Spider-Man: No Way Home
The one we've all been waiting for! For the first time in the cinematic history of Spider-Man, our friendly neighbourhood hero is unmasked and no longer able to separate his normal life from his Super one. With his identity now revealed, Peter asks Doctor Strange for help. When a spell goes wrong, dangerous foes from other worlds start to appear, forcing Peter to discover what it truly means to be Spider-Man.
Secure Your Seats Here: https://bit.ly/3DS6yHY
---
MOVIES TO SEE WITH THE KIDS 🍿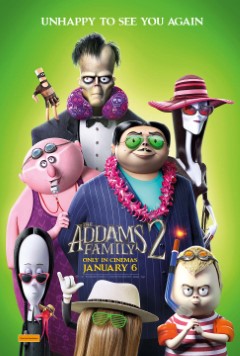 The Addams Family 2
Everyone's favourite spooky family is back in the animated comedy sequel, The Addams Family 2. In this all-new movie we find Morticia and Gomez distraught that their children are growing up, skipping family dinners, and totally consumed with "scream time." To reclaim their bond, they decide to cram Wednesday, Pugsley, Uncle Fester and the crew into their haunted camper and hit the road for one last miserable family vacation. Their adventure across America takes them out of their element and into hilarious run-ins with their iconic cousin, It, as well as many new kooky characters. What could possibly go wrong?
Secure your seats here: https://bit.ly/3eZSVw8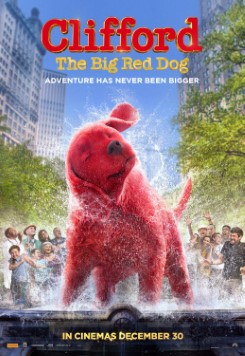 Clifford the Big Red Dog
As middle schooler Emily Elizabeth struggles to fit in at home and at school, she discovers a small red puppy who is destined to become her best friend from a magical animal rescuer. When Clifford becomes a gigantic red dog in her New York City apartment and attracts the attention of a genetics company who wish to supersize animals, Emily and her clueless Uncle Casey have to fight the forces of greed as they go on the run across New York City and take a bite out of the Big Apple. Along the way, Clifford affects the lives of everyone around him and teaches Emily and her uncle the true meaning of acceptance and unconditional love. Based on the beloved Scholastic character, Clifford will teach the world how to love big.
Secure Your Seats Here: https://bit.ly/HOYTSCTBRD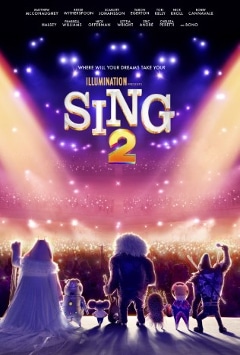 Sing 2
This holiday season, the new chapter in Illumination's smash animated franchise arrives with big dreams and spectacular hit songs as the ever-optimistic koala, Buster Moon, and his all-star cast of performers prepare to launch their most dazzling stage extravaganza yet …all in the glittering entertainment capital of the world. There's just one hitch: They first have to persuade the world's most reclusive rock star—played by global music icon Bono, in his animated film debut—to join them. Catch all the fun of Sing 2 this Boxing Day!
Secure Your Seats Here: https://bit.ly/HOYTSSING2
---
PRAMS AT THE PIX 👶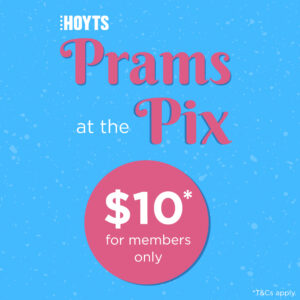 Join us at the first session every Wednesday in a freshly cleaned cinema, where we'll dim the lights and soften the volume, to ensure a baby friendly cinema experience.
Ticket Prices for HOYTS Reward Members is $10. Non-Members pay the regular ticket price. Kids under 5 are free.
Secure your seats: http://bit.ly/PRAMSATPIX
26th Jan – Spencer (M)
2nd Feb – The Eyes of Tammy Faye (M)
9th Feb – Moonfall (M)
16th Feb – Marry Me (PG)
23rd Feb – Death on the Nile (M)
2nd Mar – Dog (M)
---
EXCLUSIVE SENIORS SCREENINGS!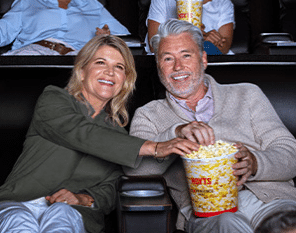 These sessions are held for the first two sessions of a selected movie every Thursday, then there will be an encore screening on the following Tuesday for the first sessions of the same movie.
Ticket Prices for HOYTS Reward Members who are 60 Years or older is $9. Please ensure you have registered your date of birth on you membership.
HOYTS Rewards Members who are 60 Years or older can redeem a $1 snack sized popcorn for Senior Movie Screening sessions 🍿
Secure your Seats: https://bit.ly/HOYTSSSP
27th Jan & 1st Feb – Queen Bees (CTC)
3rd & 8th Feb – Nightmare Alley (MA15+)
10th & 15th Feb – Death on the Nile (M)
17th & 22nd Feb – Marry Me (PG)
24th Feb & 1st Mar – Off The Rails (CTC)