Enjoy the Movies!
BECOME A HOYTS REWARDS VIP MEMBER!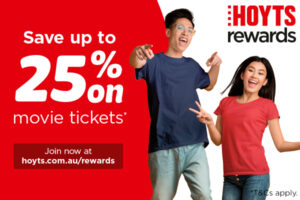 Get rewarded every time you go to the movies at HOYTS!
Become a HOYTS Rewards VIP member today and save 25% on movie tickets!
Plus, you get access to a tonne of other benefits like, 10% off food & drinks, access to movie of the week tickets and free popcorn refills!
So, what are you waiting for? Join HOYTS Rewards today in-cinema or online at hoyts.com.au for just $15 a year!
T&C's apply. 
---
YOUR HEALTH AND SAFETY AT HOYTS
The health and safety of our guests and staff is our biggest priority. We ask for your support in keeping our cinemas clean and safe.

Use contactless payments where possible
Always practice good hygiene and wash hands frequently
Place your rubbish in the bin at the conclusion of sessions
Cover coughs/sneezes, dispose of tissues and make use of the available hand sanitiser
Refrain from attending the cinema if feeling unwell to ensure a safe and comfortable experience for everyone
---
NEW RELEASES! 🎬
Thor: Love and Thunder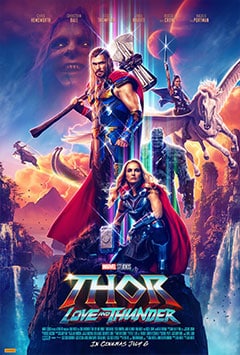 This film finds Thor (Chris Hemsworth) on a journey unlike anything he's ever faced – a quest for inner peace. But his retirement is interrupted by a galactic killer known as Gorr the God Butcher (Christian Bale), who seeks the extinction of the gods. To combat the threat, Thor enlists the help of King Valkyrie (Tessa Thompson), Korg (Taika Waititi) and ex-girlfriend Jane Foster (Natalie Portman), who – to Thor's surprise – inexplicably wields his magical hammer, Mjolnir, as the Mighty Thor. Together, they embark upon a harrowing cosmic adventure to uncover the mystery of the God Butcher's vengeance and stop him before it's too late. In cinemas Wednesday, July 6th!
Secure your recliners here: https://bit.ly/HOYTSTLAT
The Black Phone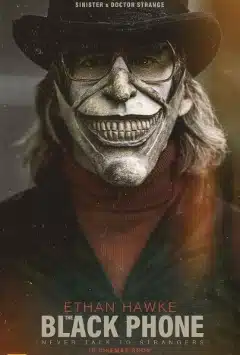 Whatever you do, don't hang up…
Trapped in a soundproof basement by a sadistic killer, 13-year-old Finney discovers that he can hear the voices of the killer's previous victims. Now, they are dead set on making sure that Finney doesn't meet the same fate. Join us with your fellow horror lovers on Friday July 1st for a special Horror Night screening of The Black Phone.
Secure your tickets here: https://bit.ly/HOYTSTBPHN
---
DON'T MISS THESE TITLES! 📽️
Elvis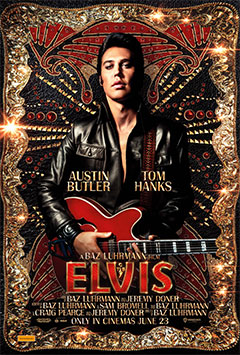 Rock 'n' roll your way into HOYTS to witness Baz Luhrmann's Elvis on the big screen!
Starring Austin Butler and Tom Hanks, witness the journey of Elvis Presley's rise to fame and stardom. This spectacular look into the life of Elvis captures the complex relationship between those most influential in his life, during a time when America's cultural landscape was changing forever.
Secure Your Seats Here: https://bit.ly/HOYTSELTOS
Jurassic World: Dominion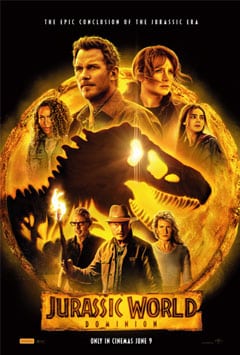 Four years after the destruction of Isla Nublar, dinosaurs now live–and hunt– alongside humans all over the world. This fragile balance will reshape the future and determine, once and for all, whether human beings are to remain the apex predators on a planet they now share with history's most fearsome creatures in a new Era.
Secure Your Seats Here: https://bit.ly/HOYTSJWDTOS
Top Gun: Maverick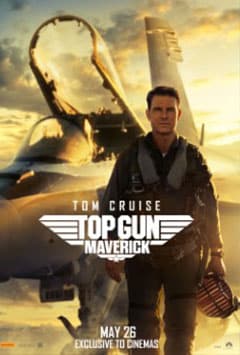 After more than thirty years of service as one of the Navy's top aviators, Pete "Maverick" Mitchell (Tom Cruise) is where he belongs, pushing the envelope as a courageous test pilot and dodging the advancement in rank that would ground him. When he finds himself training a detachment of Top Gun graduates for a specialized mission the likes of which no living pilot has ever seen, Maverick encounters Lt. Bradley Bradshaw (Miles Teller), call sign: "Rooster," the son of Maverick's late friend and Radar Intercept Officer Lt. Nick Bradshaw, aka "Goose". Facing an uncertain future and confronting the ghosts of his past, Maverick is drawn into a confrontation with his own deepest fears, culminating in a mission that demands the ultimate sacrifice from those who will be chosen to fly it.
Secure Your Seats Here: https://bit.ly/HOYTSTGMTOS
---
MOVIES TO SEE WITH THE KIDS 🍿
Minions: The Rise of Gru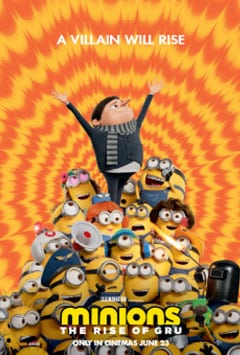 Gru and his Minions have returned to the big screen! Journey back to the start of their iconic adventures together, and discover how the world's greatest supervillain came to meet Bob, Carl and the rest of their hilarious, yellow crew.
 Secure Your Seats Here: https://bit.ly/HOYTSMTOS
Lightyear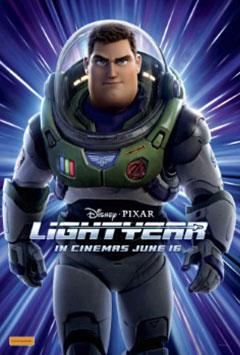 The sci-fi action-adventure presents the definitive origin story of Buzz Lightyear—the hero who inspired the toy—introducing the legendary Space Ranger who would win generations of fans. Chris Evans lends his voice to Buzz. Annie Award-winning director and veteran Pixar animator Angus MacLane helms "Lightyear." Galyn Susman produces.
Book your tickets NOW to Lightyear. Find out more here: https://bit.ly/HOYTSLTY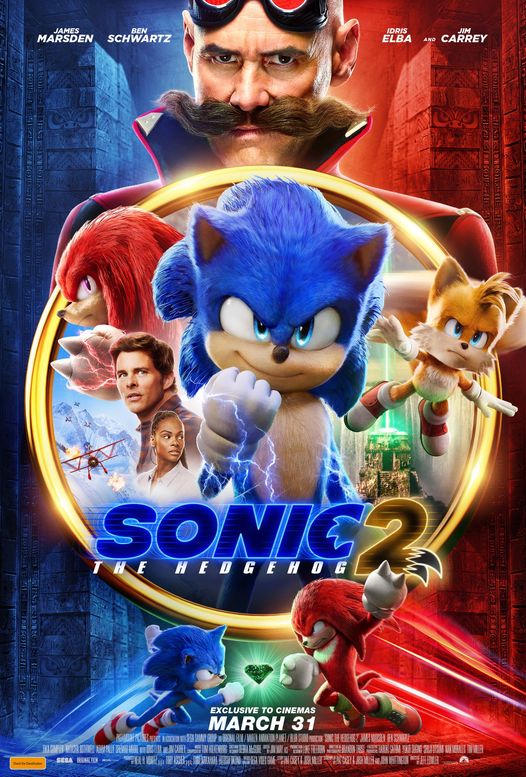 Sonic the Hedgehog 2
The world's favourite blue hedgehog is back for a next-level adventure in SONIC THE HEDGEHOG 2. After settling in Green Hills, Sonic is eager to prove he has what it takes to be a true hero. His test comes when Dr. Robotnik returns, this time with a new partner, Knuckles, in search of an emerald that has the power to destroy civilizations. Sonic teams up with his own sidekick, Tails, and together they embark on a globe-trotting journey to find the emerald before it falls into the wrong hands.
Secure Your Seats Here: https://bit.ly/3LF9nQK
---
PRAMS AT THE PIX 👶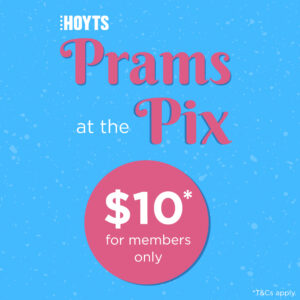 Join us at the first session every Wednesday in a freshly cleaned cinema, where we'll dim the lights and soften the volume, to ensure a baby-friendly cinema experience.
Ticket Prices for HOYTS Reward Members are $10. Non-Members pay the regular ticket price. Kids under 5 are free.
Secure your seats: http://bit.ly/PRAMSATPIX
6th July: Elvis
---
EXCLUSIVE SENIORS SCREENINGS!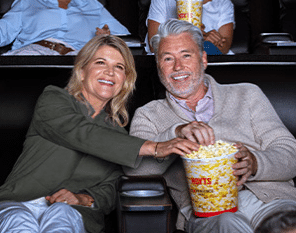 These sessions are held for the first two sessions of a selected movie every Thursday, then there will be an encore screening on the following Tuesday for the first sessions of the same movie.
Ticket Prices for HOYTS Reward Members who are 60 Years or older are $9. Please ensure you have registered your date of birth on your membership.
HOYTS Rewards Members who are 60 Years or older can redeem a $1 snack-sized popcorn for Senior Movie Screening sessions 🍿
Secure your Seats: https://bit.ly/HOYTSSSP
30th June & 5th July: Elvis (repeat)